Working with You As a Partner in Your Health
As you know, your oral health and overall health are connected. From inflammation to heart disease, the health of your teeth and gums impact the health of the rest of your body. We help you to take charge of your dental health through advanced family dentistry.
Our Mission
At Metro East Dental, your body is your vehicle, helping you to live your life to the fullest. That's why we do our best to deliver high quality, professional dental services to every patient who walks through our door. We want to help you live your best life! On top of that, our team believes that dental care should be ethical and non-judgmental. We won't judge you or treat you differently if your at-home hygiene has been spotty. We'll work with you to work toward optimal oral health. We want every patient to feel welcomed and taken care of and to know that they have a dentist who cares for their long-term health.
When you rely on Metro East Dental, you know that you're partnering with a team who has passion and drive for what they do. Get your dental needs taken care of by a dental clinic that cares about the health of your teeth through outstanding dentistry.
Metro East Dental Care's Values
Metro East Dental is led by Dr. Christopher P. May, a dentist who believes deeply in providing every person with not only professional dental services and tooth healing, but also with a human connection that makes them feel welcome. Metro East operates on these principles and continues to live up to this standard in everything we do.
Know that you're receiving services from a team who cares deeply about every interaction you have in our clinic and not just about the health of your teeth. Get started with expert dentistry services that keep you smiling from ear-to-ear.
Cindy
Cindy has been with the team for 28 years and has two children who live in South Carolina and in Illinois. She is an organizational rockstar and has a secret talent for paying-it-forward. She's an outstanding dental hygienist who is sure to put a smile on your face! She might also have an obsession with spa days and family time.
Samantha
Samantha joined us at Metro East Dental as a Dental Assistant in 2019. She is a proud mom to her beautiful daughter. She is totally obsessed with Corgis, but she's pretty interested in teeth and polishing, too! If you're needing help with nitrous oxide, Samantha is your person. She's got certifications in Dental Assisting and Nitrous Oxide Administration, bringing unique value to our team!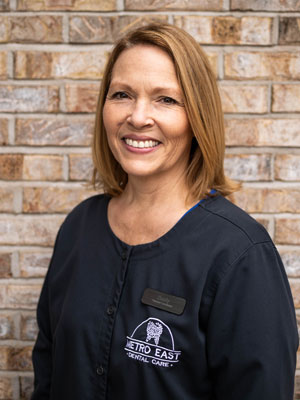 Sandy
Sandy is a Metro East Dental veteran and has been with our practice since 1996! She is certified in CPR and brings a unique ability to multitask and stay calm, especially in stressful times. Sandy is a mom to five beautiful children and loves working in her garden, going to craft shows, and celebrating the holidays.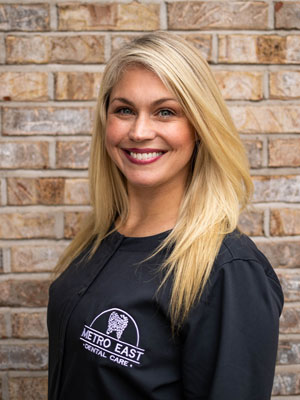 Take Charge of Your Smile
Schedule an appointment with Dr. Christopher P. May and get the smile that you've always dreamed of.
Get in touch with our team to set up your next dental visit with a team that provides exceptional dentistry services.
We're here to help. Contact Us!